Description
CrystalSky Monitor Mount System for the DJI Mavic, Mavic Air, and Spark
PLEASE NOTE: DOES NOT FIT THE NEW MAVIC 2 CORRECTLY
PLEASE SEE OUR NEW MAVIC 2 PRO MOUNT HERE.
https://evolution3d.com/shop/radio-mounts/dji-mavic-pro-2-crystalsky-mount-v2/


Mount the DJI CrystalSky high or low.. your choice.. and at whatever angle you like.. made with super tough PETG Material which is also heat resistant so it's safe to leave in a hot vehicle or use in hot environment.
Works best with the 5.5 CrystalSky. Same hinge system all my existing mounts have used for the past 3 years.. 1/4-20 thumb bolts.. these hinges are tough and stay quite tight..
Main clip easily snaps on and off controller.. See Video Below.. Fairly compact should you want to leave the main clip on..
Has a platform that sticks out a bit on the back so it can sit upright while the monitor is attached.. Platform has a hole for hanging the mavic rc on the wall.. 2 places to attach your lanyard strap.. depending on whether you mount the CrystalSky high or low..
Very lightweight. Entire Mount Setup weighs 6oz.
Mainly intended for CrystalSky use, but optional adapters available to mount other things on it.. tablet/smartphone etc etc
(These adapters are the same adapters all my deluxe mounts use)
Comes with my usual 3 month Warranty.. and even after that I sell pieces at cost should anything happen. You just pay shipping.
IMPORTANT NOTE: THIS MOUNT SNAPS ON TO YOUR MAVIC RADIO NICE AND TIGHT. THAT IS BY DESIGN. IF THE MOUNT WAS NOT TIGHT IT WOULD WIGGLE AND NOT SUPPORT THE WEIGHT OF THE CRYSTALSKY MONITOR. THAT BEING SAID, WE HAVE HAD THE MAIN MOUNT CLIP ON/OFF OUR MAVIC RADIO OVER 200 TIMES NOW AND OUR RADIO BARELY HAS ANY SCRATCHES ON IT FROM THIS PROCESS. THE VAST MAJORITY OF OUR CUSTOMERS (99.9%) REPORT BACK THE SAME RESULTS. REGARDLESS, WE CANNOT GUARANTEE THAT YOU WON'T SCRATCH YOUR RADIO. SO, PLEASE DO NOT PURCHASE THIS MOUNT IF SOME MINOR SCRATCHES ON YOUR RADIO OVER TIME IS SOMETHING THAT YOU CAN NOT LIVE WITH. PLEASE BUY SOMETHING ELSE.
Watch the product video for more detailed information on this product..
CLICK HERE TO WATCH A VIDEO REVIEW OF THE PRODUCT BY MAD RC
CLICK THE PHOTO BELOW TO SEE HOW TO GET THE MAIN CLIP SUPER TIGHT WHEN USING THE MUCH HEAVIER 7.85 CS MONITOR.. THIS WILL STOP IT FROM WIGGLING..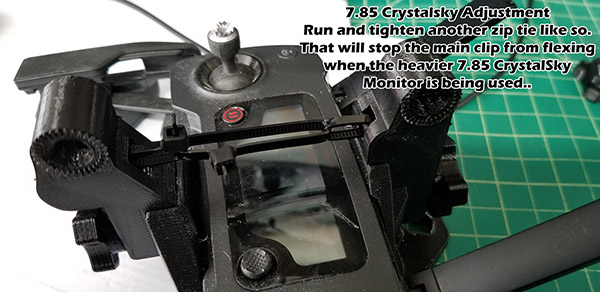 On newer versions of the mount there are tabs meant just for this purpose. Run some zip ties any it will reduce all wiggle. See photo below.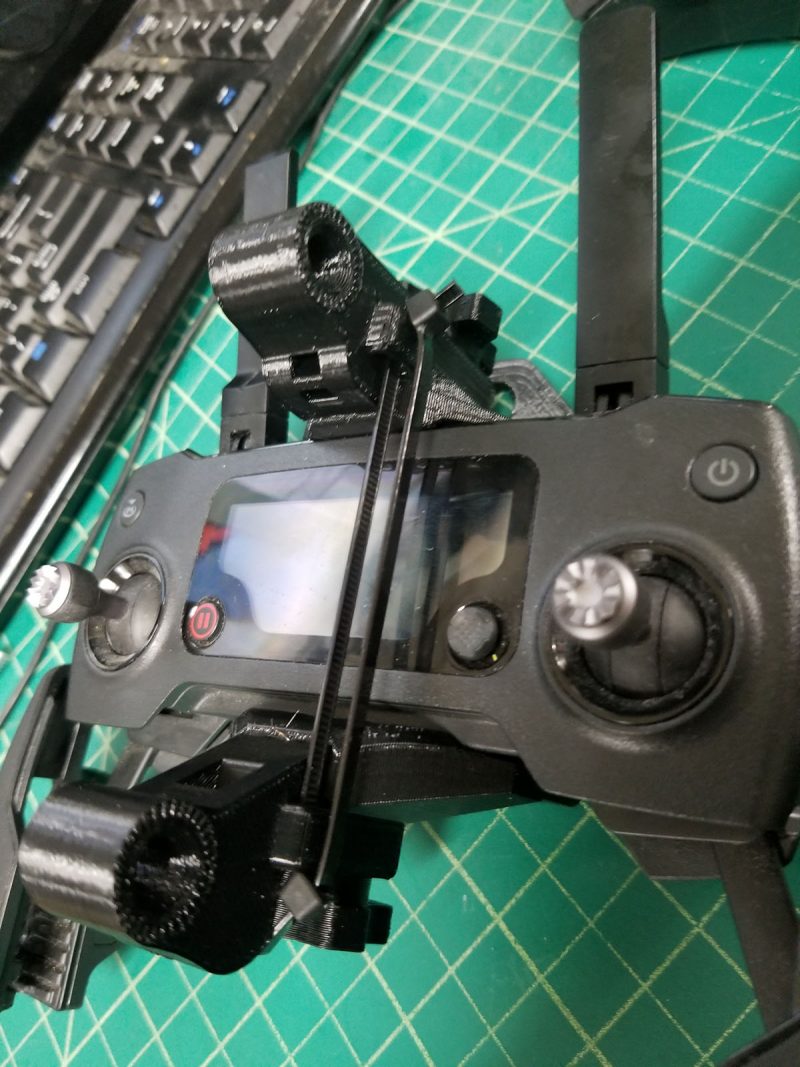 Questions..
Do I need DJI's $80.00 dollar CrystalSky Mount in order to use this mount?
No, you do not, our mount system does not require that part to function. You will however need a suitable USB Cable. See below for a recommendation.
How long of a USB cord and what type is recommended for this setup?
I like using a 12 inch cord.  It's perfect.  The "SCHITEC 1ft USB C to USB A Nylon Braided Micro USB 2.0 Type C Cable " off of Amazon is a great cord to consider.
If I buy the Mavic Mount System can I also mount my CrystalSky monitor on the other Evolution3D mounts that I already own?
Yes, if if you own any of our other deluxe monitor mounts you can mount your CrystalSky on them using the same adapter that comes with the Mavic System on this page. All of our thumbscrew joints are compatible with each other.. so for example you could use your CrystalSKy on your Mavic then move it easily to your Phantom 3/4/Inspire radio setup. You just need one of our mounts to do so of course. You could even use your CrystalSky on your Taranis or Futaba radio provided you have one of our deluxe mounts for it. A scenario like that will eventually be useful when DJI releases the Video-IN dongle for the CrystalSky which they have announced.

Will this adapter fit on a DJI Spark Radio?
Yes, DJI  Spark fitment was confirmed on 7-17-2017 by one of our users. Fits perfectly.
Do you sell an adapter to mount a CrystalSky Monitor on any standard 1/4-20 tripod setup?
We sure do, it's not on the site yet but it is available. Contact us if interested.
But I would rather have a mount made all of metal?
Hey, that's your call, but if there is one thing I have learned in my 4 years of designing and creating radio mounts for various RC Radios it is that you want to keep the metal parts to a minimum. The less metal parts around the RC Radio the better. Its much better to not create an RF issue than to deal with any problems it might cause.