IMPORTANT NOTICE: 8-18-2017

ATTENTION VERY RECENT CRYSTALSKY MAVIC MOUNT ORDERS
It has come to my attention that sometime in the past week or so I sent out at least a a few CrystalSky Mavic Mount Kits where the arms are missing some material.
This material also contains the little groves needed to get a tight connection at the joint.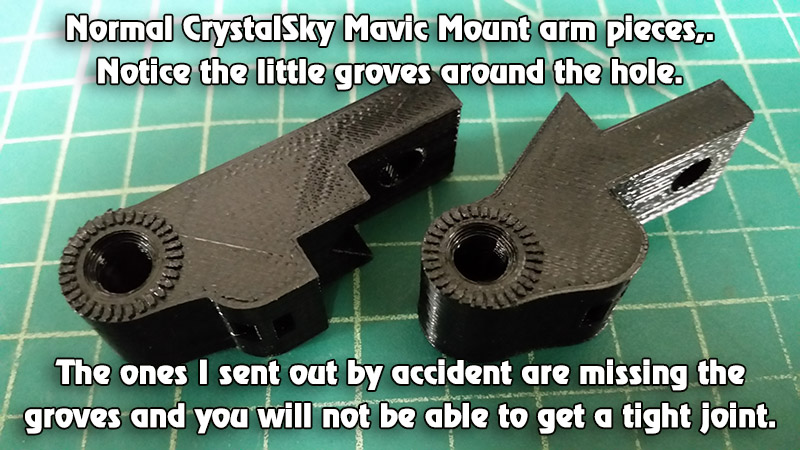 If you receive one like this you will not be able to tighten the joints to your monitor.
Unfortunately, I have no idea who was sent the faulty arm pieces and there were a lot of international orders in this time period.
The good news is I believe that even if this happens to you that there's a good chance at least one of the arms sent to you will have the groves so you will still hopefully be able to use your mount, although be limited to mounting in one position.
So, that being said.. if you get your unit and it has this problem please let me know and I will send you out new pieces. In the meantime I am trying to be proactive and produce and send new arms out to whatever orders I believe could be effected.
That being said..
I am so sorry this happened.. I know some of you will understand and of course that some of you will get very upset. Please understand that I have been getting very little sleep the past 50 days or so just trying to keep up with orders and get everyone a mount.  I seldom make mistakes like this, I am only human, and I truly am sorry. This mistake happened in fact because I was making an improvement to the product, but a file got saved incorrectly and the arms did no get fully printed. Normally I would definitely notice a part not getting finished, but in the case of these arms it's easy to miss as they fit and nearly look the same.
EDIT (to be VERY CLEAR. There are only supposed to be groves on one side of the arms.. the other side is supposed to be smooth, the pieces I sent out by accident have no groves at all..) Hope that makes sense..
Johnny
Evolution3d.com
---
Welcome to EVOLUTION3D, a manufacturing company based out of the beautiful 1000 Islands Region of NY State.. My name is Johnny Truesdell and it's my job to make awesome stuff. 🙂 My specialty is the creation of high quality monitor mounting solutions for the RC Flying Industry. My mounts are are proudly designed, manufactured, and assembled right here at my shop in Alexandria Bay, NY. They're not only the best mounts available, they also come with a Warranty.
So, check out my online storefront and see what I have to offer.